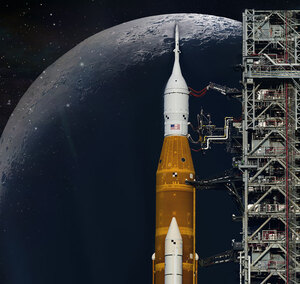 At Omitron, we take immense pride in recognizing and celebrating exceptional talent within our organization. Today, we extend our warmest congratulations to our esteemed award-winning Flight Dynamic Facility (FDF) Artemis Launch Preparation Team—Jon Rodriquez, Brandi Churchwell, and Alicia Goldstein—in recognition of their dedication to the success of the Artemis mission. These individuals have demonstrated exceptional dedication, expertise, and innovation, setting the benchmark for excellence which led them to winning the 2023 NASA Goddard Engineering & Technology Directorate (ETD) award for Excellence in Safety & Quality Assurance Award!
Jon, Brandi, and Alicia went above and beyond basic requirements for this support, bringing new and innovative methods and tools to the FDF specifically designed for Artemis-I. The number of products needed for Artemis was an order of magnitude more than the FDF produces for any other Human Space Flight mission. The team's automation efforts reduced the amount of time required to prepare for an Artemis launch attempt from weeks to hours providing a significant cost savings to NASA. They upgraded CONOPS and existing FDF scripts for contingencies, dramatically improving the computational efficiency of all the tools used in the Artemis analysis. They also developed a new tool to integrate the Abort-Once-Around (AOA) workflow, providing rapid decision-making capability and modeling the abort in real time so that acquisition data can be rapidly generated, maintaining spacecraft communication. The Artemis Launch Prep Team's extensive work was fully realized during the Artemis-I launch on November 16, 2022. When the final launch time was provided with less than ten minutes to spare, the team was able to update internal processes and products for the tracking networks in a highly-effective manner further ensuring a highly successful mission.
These remarkable individuals have consistently gone above and beyond, pushing the boundaries of excellence, and embodying the core values of our company. Their commitment to innovation, teamwork, and outstanding performance has not only inspired their colleagues but has also positively impacted our customers and the broader industry. We extend our heartfelt appreciation for their dedication and hard work, which directly contribute to our company's success.