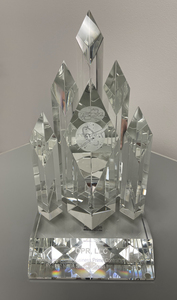 OPR, LLC, a HUBZone Mentor Protégé Joint Venture between Pearl River Technologies LLC and Omitron Inc., is thrilled to announce its selection as the winner of NASA's prestigious Agency-level Small Business Prime Contractor of the Year for the fiscal year 2022. This esteemed recognition highlights OPR's exceptional contributions to NASA's mission and its unwavering commitment to excellence.
Throughout FY22, OPR played a vital role in several critical projects on the Flight Dynamics Support Services III (FDSS-III) contract including the preparation for launch of Artemis I, operated the Flight Dynamics Facility, provided flight dynamics support to JWST, as well as providing invaluable support for conjunction assessment across the NASA mission portfolio. These endeavors allowed OPR to demonstrate its expertise, efficiency, and mission-enabling innovations.
As a small business, OPR is immensely proud that NASA has recognized the significant impact it has made within the agency. This recognition showcases how even small companies can accomplish remarkable achievements when given the opportunity to collaborate with industry leaders such as NASA. OPR expresses its gratitude to NASA's Office of Small Business Programs for enabling and recognizing small business contributions to key agency initiatives.
One of the key strengths of OPR is its lean and agile approach, allowing the company to adapt swiftly to the evolving needs of NASA. The close partnership between OPR and NASA, particularly with the Navigation and Mission Design Branch of the Goddard Space Flight Center (GSFC), has been instrumental in achieving remarkable results.
"We are honored to be recognized as NASA's Agency-level Small Business Prime Contractor of the Year," said Tim Richardson, FDSS-III Program Manager at OPR. "This award reflects the dedication and hard work of our exceptional team, as well as the tremendous support we have received from NASA and GSFC's Navigation and Mission Design Branch. We are proud to be a part of several key NASA missions, including Artemis and the Moon to Mars program, and are committed to continuing our partnership to drive innovation and push the boundaries of space exploration."
OPR extends its gratitude to NASA for the trust and opportunities provided, allowing member companies Pearl River Technologies and Omitron to make a substantial impact across the agency. This recognition further solidifies Pearl River Technologies and Omitron as leading small businesses in the aerospace industry and reinforces the commitment to delivering exceptional results for their clients.
About OPR, LLC:
OPR LLC, is an unpopulated small business HUBZone joint venture between Pearl River Technologies LLC and Omitron, Inc.
Pearl River Technologies (Pearl River) LLC is a leading provider of technology-enabled solutions and services to government and industry customers. As an SBA-certified HUBZone small disadvantaged business (SDB), Pearl River specializes in delivering professional, technical, and administrative support services to federal, state, and local government agencies. With a strong focus on customer satisfaction, Pearl River utilizes its expertise to address the unique needs and challenges of its diverse client base. Through its innovative approach and commitment to excellence, Pearl River Technologies continues to be a trusted partner in delivering effective solutions to government and industry entities alike.
Omitron, Inc., founded in 1984, is an aerospace engineering, mission operations, and IT services firm headquartered in Beltsville, MD. Omitron is a small business with a strong focus on hands-on customer support and applied engineering. We support NASA Earth and Space Science missions, NOAA Environmental satellite programs, US Space Force, and National Security space programs. Omitron provides technical expertise in ground systems, flight operations, flight dynamics, trajectory design and analysis, space surveillance, IT security, and conjunction assessment risk analysis. Omitron is headquartered in Beltsville, Maryland with a regional office in Colorado Springs, Colorado and field sites in State College, PA; Chantilly, VA; Dahlgren, VA; and Vandenberg SFB.